How to go to Bali From Nusa Penida
There are so many boats that will take you from Nusa Penida to Bali. These transfer services are available from several different locations in Nusa Penida, such as Banjar Nyuh, Toya Pakeh, Sampalan and Kutampi.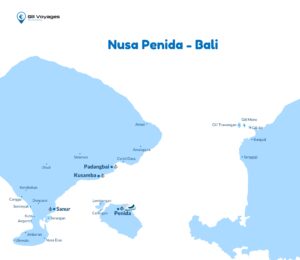 How long would it takes from Nusa Penida to Bali
Depending on which location you are in and which ports that you are heading, the journey typically takes between 25 minutes to 40 minutes from Nusa Penida to Bali. There are 3 ports in Bali, which are Padang Bai, Kusamba and Sanur.
If you are traveling from Banjar Nyuh, the only destination will be at Sanur with the estimated travel time by speedboats is around 40 minutes. There are multiple speedboats available anytime of the day. You can either go early at 08.00, midday at 13.00 or afternoon at 16.30.
You have another option to leave Nusa Penida from Toya Pakeh. Same like above, the destination port will be at Sanur with time travel around 40 minutes and leaving at 07.30, 12.30 and 16.30.
If you decide to reach Bali from Sampalan, you can either arrive at Sanur for 40 minutes or even arrive faster at Kusamba in 25 minutes. There are many speedboats leaving from Sampalan. You can check the boat schedule in our page.
Lastly, if you plan to reach Bali at Padang Bali, you need to leave from Kutampi. There is only one speedboat leaving at 12.30 and will be arrived at 12.55.
However, from most places in Bali, Sanur is the best port to go because the area is located to the most popular destinations in Bali, such as Seminyak, Canggu, Ubud, Pecatu, and the Airport.
With several different ports in Nusa Penida and many different ports in Bali, you have some options for this route. The times travel mentioned above are depending on the speed of the boat as well as depending on the weather and sea conditions.
Travel Tips
Book in advance: Bali is an incredibly popular destination, so it's important to book your accommodation, ferry tickets, and activities ahead of time. This will guarantee that you get the best deals and avoid disappointment when you arrive.
With stormy weather and high waves, the ride on speedboats can be quite rough and feel bumpy. You may consider choosing large boats if you are prone to getting seasick on boat rides.
It is advisable for pregnant women not to take speedboats. Bumpy rides and big waves can harm you and your child easily. It is better to be on the safe side. Alternatively, pregnant women can choose large boats if they want to go around for a while and explore.
Pack a first-aid kit. A good first-aid kit is an absolute must. This includes a good selection of medication for traveling: remedies against seasickness, pain medication, medicine for children etc.
Avoid an empty stomach during the boat trip. We would advise you to pack a meal or snacks at home.