How to go to Gili Trawangan from Nusa Penida
From Nusa Penida to Gili Trawangan, the only way is by taking a speedboat. The speedboats are more convenient as they give you lots of choices for almost the same price and with a much shorter travel time. These transfer services are available from Kutampi and Banjar Nyuh.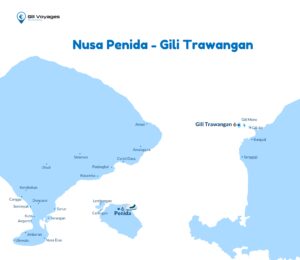 How long would it takes from Nusa Penida to Gili Trawangan
The journey typically takes between 1 to 2 hours from Nusa Penida to Gili Trawangan. With a number of fast boat companies on this route, you have several options when taking a speedboat from Nusa Penida to Gili Trawangan. The speedboats depart from Kutampi or Banjar Nyuh.
If you are traveling from Kutampi, the boat will depart at 10:30 with the estimated travel time by speedboat to Gili Trawangan usually takes around 2 hours max. Alternatively, you can depart at 12:30 but the boat will stop for a moment at Padang Bai to load other passengers and then directly go to Gili Trawangan. This will take around 2.5 hours. You have another option to leave from Banjar Nyuh. Time travel from this port to Gili Trawangan will be around 1 hour. All of the above are depending on the speed of the boat as well as depending on the weather and sea conditions.
Travel Tips
Book in advance: Gili Trawangan is an incredibly popular destination, so it's important to book your accommodation, ferry tickets, and activities ahead of time. This will guarantee that you get the best deals and avoid disappointment when you arrive.
Pack light: The Island is quite small and is best explored on foot or by bicycle. Pack light and bring only the essentials to make your trip more enjoyable.
Bring cash: ATMs are few and far between in Gili Trawangan, so make sure you bring enough cash to cover your expenses.
Visit during the week. Gili Trawangan can get quite busy on weekends and during holidays. If you want to avoid crowds and get the best deals, try to visit during the week.
The peak season for Gili Trawangan is July to September. Prices can be significantly higher and the island can get quite crowded. Try to visit during the off-season for a more relaxed atmosphere.
With stormy weather and high waves, the ride on speedboats can be quite rough and feel bumpy.
It is advisable for pregnant women not to take a speed boats. Bumpy rides and big waves can harm you and your child easily. It is better to be on the safe side.
Pack a first-aid kit. A good first-aid kit is an absolute must. This includes a good selection of medication for traveling: remedies against seasickness, pain medication, medicine for children etc.
Avoid empty stomach during the boat trip. We would advise to pack a meal or snacks at home.